Hey ladies!

I know its been a while but I had to update you all on a new product I recently tried!

So I've seen sooo many raving reviews for the AS I AM products lately. Of course I had to head to Sally's to give them a try, and to my surprise they had all of their AS I AM products buy two get one free! #win

Most of the reviews I've heard were about the Coconut CoWash: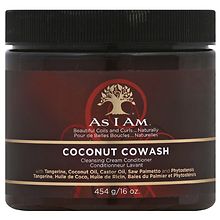 $7.99
and the Twist Defining Cream: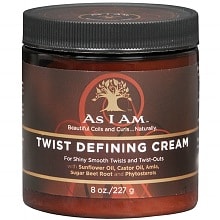 $12.99
and for my free item, I decided to go ahead with the Leave-in Conditioner: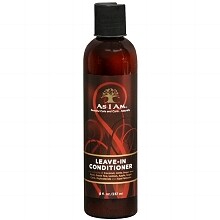 $10.49
Let me just start off with the CoWash, it was uhhhmazing!!! The smell was PERFECT and it left my hair feeling super soft, moisturized and most importantly clean!
I detangled with the CoWash in( it provided a great slip and made detangling super easy!) and rinsed out with cool water. I applied some Olive Oil to my hair and proceeded with the Leave In Conditioner.
My go to hair style lately has been flat twists so I used the Twist Defining Cream to do my twists. The cream held my twists in place nicely as well as giving them shine. I used my Denman brush to detangle my ends so the end of the twists were curly and spirally and didn't have to use a flexi rod or roller to roll up the ends.
I liked that the product didn't make my hair feel hard or crunchy, so that was definitely a plus!
I let my hair air dry for a few hours and then slept with a satin bonnet on my hair. Of course my hair wasn't completely dry the next morning -_- but I had to take the twists out because I couldn't go to work with my head looking like that lol
I did thinner twists in the front of my hair which seemed to dry quicker and yielded a very shiny, defined look. In the back, I got lazy and did thicker twists which didn't get dry and looks like a poof ball :(
Even though it didn't turn out right, I'm still very pleased with the AS I AM products in general..I will retwist tonight on water/oil-spritz hair and share with you all how it turns out!
Have you tried any of the AS I AM products? What was your reaction to them? Please share!!!
---UPDATES!! ----
So like I said I would I re-twisted my hair that night and tried to make sure that it would get dry this time. It came out a lot better the second time around. I had really defined, shiny, moisturized twists! I still have to work on how I do the back of my hair because those twists seem to be a lot chunkier and takes too long to dry, being the reason I don't get the defined twists all over my hair.
But I'm really loving this product so far! I also had a request for a flat twists tutorial so be on the lookout for one soon! :)